chef notes:
This is an all time favorite comfort food, made even better with the addition of Churn!
The sauce is creamy and sweet, and the acidity from the tomato paste really helps to brighten up the sauce. Omitted are canned crushed or diced tomatoes - you don't need 'em! The tomato paste brings it all to the table, while just a little bit of salted pasta water thickens it up to the perfect consistency.
5 tbsp. of bruschetta butter

1 lb. Rigatoni

2 Shallots (or an onion), minced

5 cloves of garlic, minced

5 oz. tomato paste (double concentrated!)

4 tbsp of vodka

1/2 cup heavy cream

1/2 cup parmesan (freshly grated, the more the merrier!)

salt to taste

crushed red pepper and fresh ground pepper to serve
Get your pasta water salted and boiling
Fill your pot with water and get it started. Season the water with salt to the point where it tastes almost like ocean water. Once it reaches a boil, throw in your pasta and cook al dente.
Pro tip: Reserve a few ladles of pasta water in a bowl and set aside - you'll use this in Step 7.
Get your prep work going (mise en place!)
Mince your shallots/onion, garlic, and set aside.
Heat Bruschetta butter in your pan/pot
Throw in your 5 tbsp of bruschetta butter, and heat on medium for 1 minute.
Pro tip: A dutch oven (pictured above) is great for pasta sauces, this way you can throw the pasta right in when the sauce is done and serve family style - but any large pan, saucier, or rondeau will do just fine as well.
The key is to have a pan with enough surface area to equally cook your shallots and garlic, and enough depth to hold the sauce at the end, so don't use a small sauce pot.
Throw in your shallots and garlic
Throw in the minced shallots and garlic, and stir until they become translucent - about 4-5 minutes. If you'd like a little bit of heat in your sauce, toss in some red pepper flakes.
Mix in tomato paste
Spoon in your tomato paste, and incorporate it with the shallots and garlic. Stir frequently, while keeping an eye on it for another 2-3 minutes.
De-glaze with vodka
Add in your vodka and breathe in the sweet aroma that is the result of the alcohol hitting the hot pan. Stir, and let cook for 2-3 minutes.
Add in pasta water
Add in about 2 big ladles of pasta water. This may seem like a lot, but trust that the starches and salt will go to work to thicken up the sauce.
Add in cream
Slowly add in your heavy cream, and then your parmesan. Stir and add salt to taste.
Toss in your pasta and enjoy
Serve with more parmesan and fresh basil!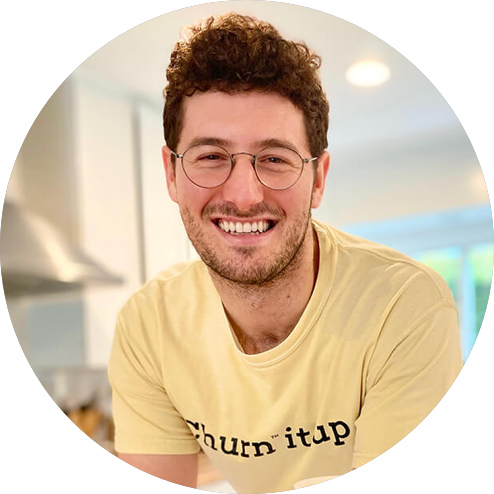 Churn Foods
The chef and founder of Churn Foods, Michael Tashman, knows that deeply flavorful food make us happy. Each orginal recipe is designed to empower you to elevate your standard home meals with excitement and flavor.